Introduction
The NCFE CACHE Technical Level 3 Extended Diploma in Health and Social Care is a comprehensive qualification designed to equip learners with the essential knowledge, understanding and skills required to work in the health and social care sector. The qualification is aimed at learners who are 19 years of age or older and provides them with the opportunity to progress into Bachelor in Nursing or Higher Education.
The course comprises of 14 mandatory units, three optional units from Optional Group 1, and one unit from Optional Group 2. Additionally, learners must pass the Certificate External Assessment (HSC1), Extended Diploma External Assessment (HSED2), and a Short Answer Examination covering Anatomy and Physiology for Health and Social Care unit.
To support their learning, learners will be required to attend a real work environment and complete a minimum of 175 placement hours. This will help them to apply the knowledge and skills they have acquired in a practical setting.
Upon successful completion of the course, learners will be well-prepared to progress into a range of job roles in the health and social care sector or continue their education at a higher level. The recommended assessment methods for the qualification include a portfolio of evidence, two synoptic external assessments, and a short answer examination.
Grading Procedure
The grading system for this qualification includes the following Grade and UCAS Tariff points –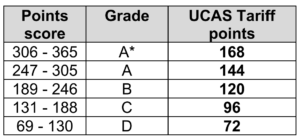 Course Specification
The unit names are provided below and students can get more detailed information after downloading the Full Course Specification from the button below –
Unit Name
Equality, diversity and rights in health and social care
Human Growth and Development
Safeguarding in health and social care
Communication in health and social care
Infection prevention and control in health and social care
Psychological perspectives in health and social care
Sociological perspectives in health and social care
Working in Health and Social Care
Empowerment in health and social care
Protection of children, young people and adults in health and social care
Anatomy and physiology for health and social care
Personal and Professional Development in the Health and Social Care Sector
Research skills for health and social care
Personal and professional development